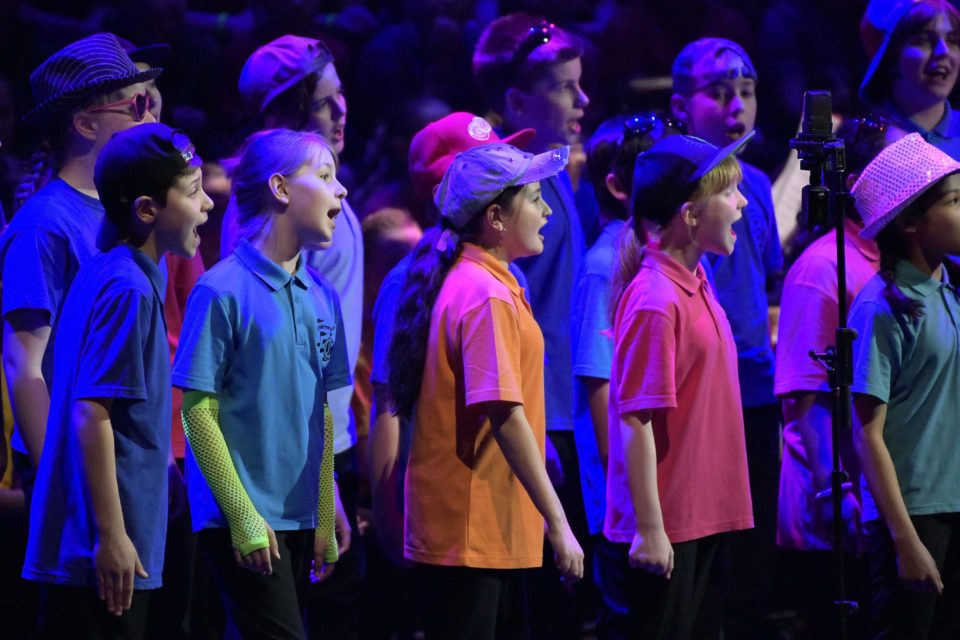 The SAPPS Choir Auditions for 2022
If your child would like to participate in the audition process, they can do so, on either Wednesday 3 November or Tuesday 9 November 2021 at PSMF Klemzig, 28 Hay St Klemzig.
The half hour times available are:
4.00pm - 4.30pm
4.30pm - 5.00pm
5.00pm - 5.30pm
There is a maximum of 10 students per half hour audition. Cathy and Gaby will lead some group warm-ups and exercises to test vocal range then ask the students to sing 'Happy Birthday'. We aim for the process to be very straightforward and non- threatening.
There will be a quick parent chat while we audition the students.
Your child needs to bring his/her best singing voice and a drink of water.

Click HERE to book an audition.


The SAPPS Choir
The South Australian Public Primary Schools (SAPPS) Choir is the showcase choir for the Primary Schools' Music Festival (PSMF) and the SA Department for Education.
Comprised of talented students from Years 5-7, the auditioned members rehearse on Monday nights at PSMF Klemzig. The aim of The SAPPS Choir is to provide a choral extension program that will develop ability and knowledge in upper primary school students who demonstrate a high level of musicianship. Repertoire is generally challenging and includes a wide range of genres and styles.
The choir performs on 10-12 occasions each year, including two concerts for parents, families and friends. Performances may include Choral Eisteddfods, formal events and featuring as Guest Artists at the annual Festival of Music. It is the principal recording choir for the program repertoire that is distributed to schools throughout South Australia.
Auditions are scheduled for Term 4 every year.
Contact Us

NEWS FLASH! The SAPPS Choir have won 2 awards in the ANCA Southern Stars Showcase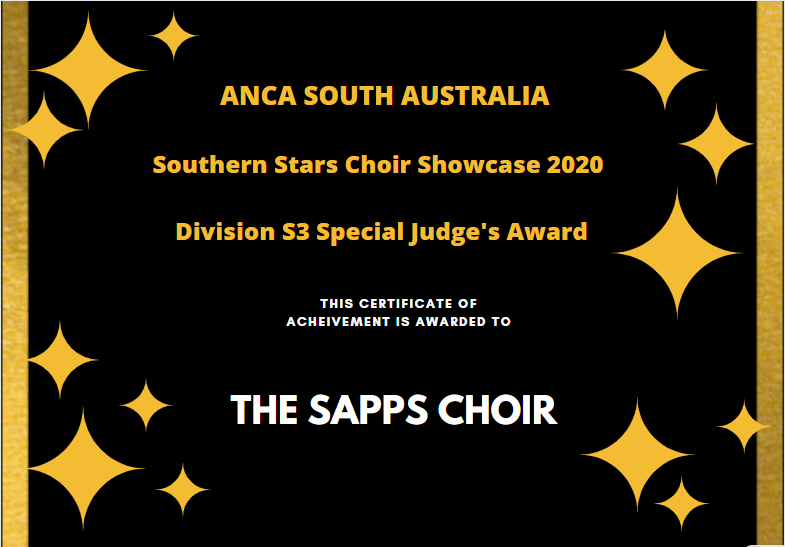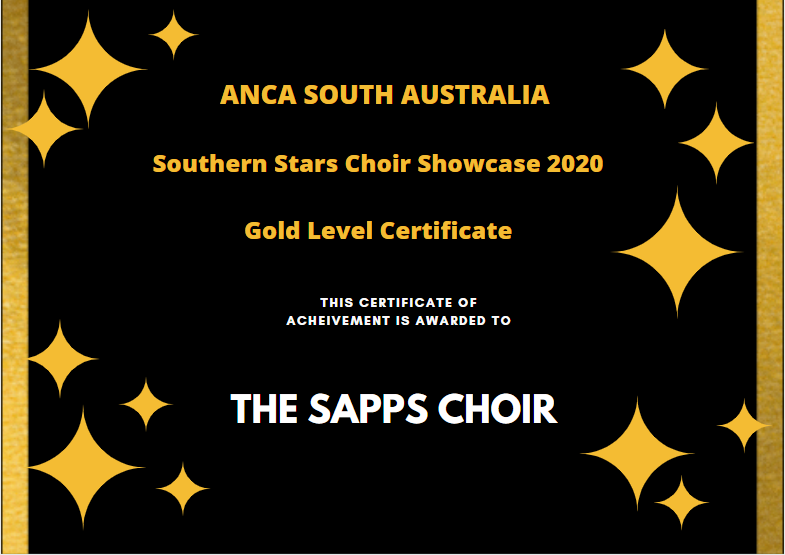 Reference Requests
Please copy and paste the following questions into an email and send them with your answers to: Cathy.Lange591@schools.sa.edu.au
THE SAPPS CHOIR 'REFERENCE REQUEST' PROFORMA
When did you join the SAPPS Choir?
What voice parts have you sung?
Have you attended a SAPPS music camp? If so how many?
Please list the performances you have participated in. Include our own SAPPS Choir concerts and all other gigs … eg ANZAC, the Eisteddfods, the Art Gallery.
Which special events or projects have you participated in … eg the virtual choir, filming for the SING movie
Have you performed a solo at any SAPPS performances? Please name them.
Have you successfully auditioned for participation in the recording choir? What years?
Have you been selected as a Guest Artist at a SAPPS Choir, Winter or Christmas Concert? When and what did you perform?
Have you had any leadership roles in the SAPPS Choir? Please itemize.