Do you love to sing?
Why don't you consider auditioning as a soloist for the Festival of Music! This is a wonderful opportunity for students to sing with a choir of more than 1500 voices and full orchestra backing – all on a world class stage!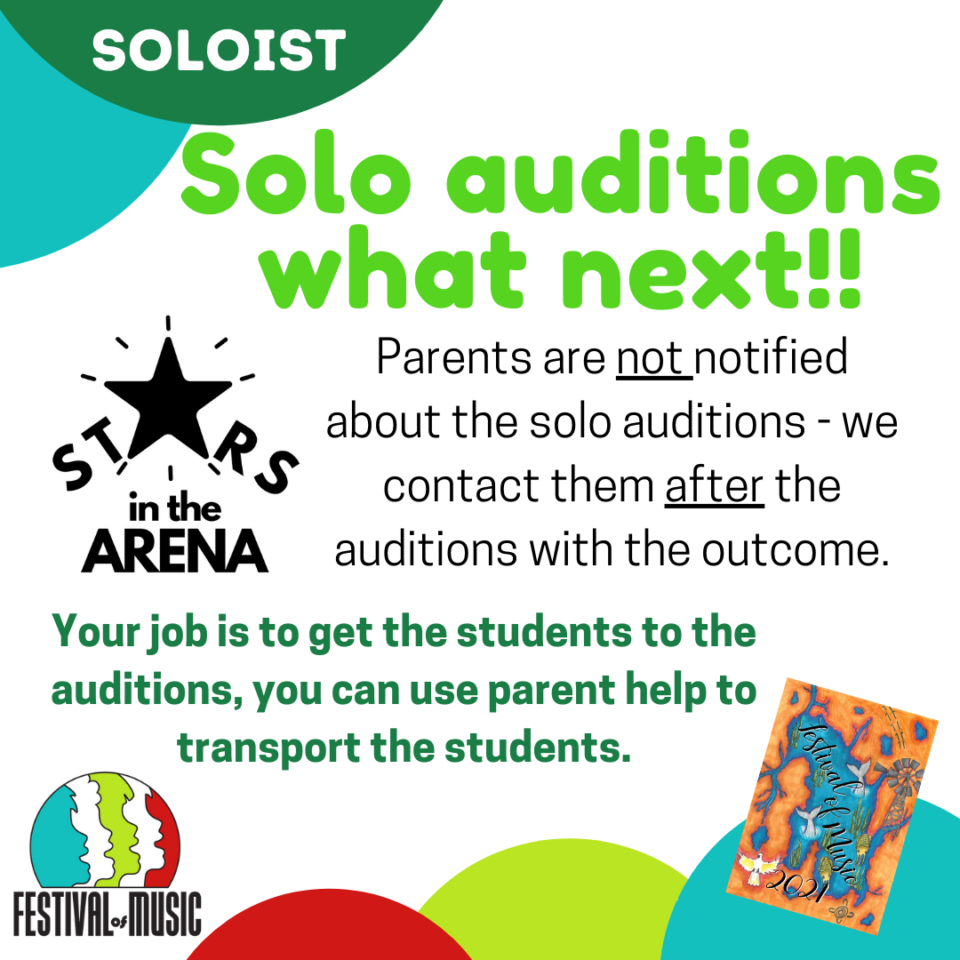 Solo Auditions
The Solo audition and selection process happens in Term 2 in schools with auditions in Week 6.
Closing on 18 May (week 4)
PSMF Office, Klemzig - Monday 31 May
Woodend PS - Tuesday 1 June
Hendon PS - Wednesday 2 June
Salisbury Heights PS - Thursday 3 June
Video Auditions by negotoiation - office.psmf799@schools.sa.edu.au
This year students can be nominated for the following solos;
Sounds of the Public School - NOW 3 Solos

Solo 1 is first half of the original solo - bars 69-77.
Solo 2 is part A from bar 79 to the end.
Solo 3 starts at bar 85 to the end, which is the second half of the original solo.
Mayangan - NOW 2 Solos
Verse 1 is solo 1
The Bridge is solo 2.
Solo 1 and Solo 2 combine to sing the final 2 bars B117-118 as long as their voices work together.
Rockstar - NOW 3 Solos
Solo 1 – Verse 1 Bar 8-14, Bar 94-95 and Bar 111-112 and B122-124
Solo 2 – Verse 3 Bar 30-36, , Bar 98-99, Bar 115 --116 and Bar 122-124
Solo 3 sings Bar 102 – 109, and Bar 119 – 120 which is different ** and Bar 122-124.
I Have a Voice - 3 Solos! Stays as in the Songbook.
Sisi ni moja (We are one) - NOW 1 Solo
Solo 1 is a new solo, and is the descant part, B69-79 to the end of the song.
Don't Stop - NOW 4 Solos

Solo 1 – Verse 2 – soprano part… B29-36
Solo 2 - Verse 2 - alto part … B29-36
Solo 3 – Verse 3 – soprano part…. B57-67
Solo 4 - Verse 3 - alto part … B57 – 64 + join the soprano to sing B65-67 Aah ( if voices suit!)
Outro B76-88
All soloists learn to sing the outro for the audition.
Final decision will be made at the solo masterclass depending on quality of the 4 voices.
Encourage students to practice with the choral and backing tracks rather than the solo track as these haven't been updated.
Only Choir Teachers/Choir Support can nominate. This form is password protected.
Closing on 18 May (week 4)
Don't forget the Pre Audition Solo Workshops are to help prepare your Soloists and are open for bookings.
"Don't Stop"- if one school has TWO students that combined well for the harmonies in the last line of each verse, they can nominate those TWO soloists as ONE solo. This would also apply for the "Don't Stop" Solo 3 and 4.

The number of soloists a school can nominated is directly linked to your schools allocation:

Quarter Row (8 students) can nominate for ONE solo
Half Row (16 students) can nominate for TWO solos
Full Row (32 students) can nominate for FOUR solos
Above One Row (48+ students) can nominate for SIX solos
Note that each solo part can only be nominated once (e.g. only one student can sing the solo for Rockstar Solo #1). A student can only nominate for a maximum of two solos. You can only submit this form ONCE.
Find your school allocation HERE