Another Performance Opportunity
Choreography Leaders
Choreography Leaders support the conductor in front of the massed choir for songs that include choreography and Auslan Signing. These students need to be confident, precise and reliable.

Choreo Pre-Audition Workshop Booking
Choreography Leaders – Nomination and Audition process
Choir Teachers please nominate 2 students per school – 1 soprano and 1 alto to be the choreography leaders. Ideally, we would like to see a pair of students from the one school, but if you only have really one strong leader then we might be able to match them up with someone from another school.

The Choreography Leaders must know the TEACHER VERSION of the movement as they stand in front of the choir and lead them for these songs:
'Proud Mary'
'Charleston'
'Keep On Movin'
'Advance Australia Fair' – Auslan signing.
We are looking for students:
with precise, strong and artistic movements
that can confidently sing with expression and model a great singing face to match the feel of the song.
Pre-Audition choreography / signing workshop **NEW DATE**
Come and Try being a Choreography Leader on Tuesday 6 June (Term 2, Week 6) at Unley Primary School, 222 Wattle St, Malvern, from 4:15pm - 5:45pm
Aim of this session: students will be taught some of the choreography, Auslan signing, how to access the vision to rehearse with and what to expect at the audition. Clear expectations will be given about what is required for the audition.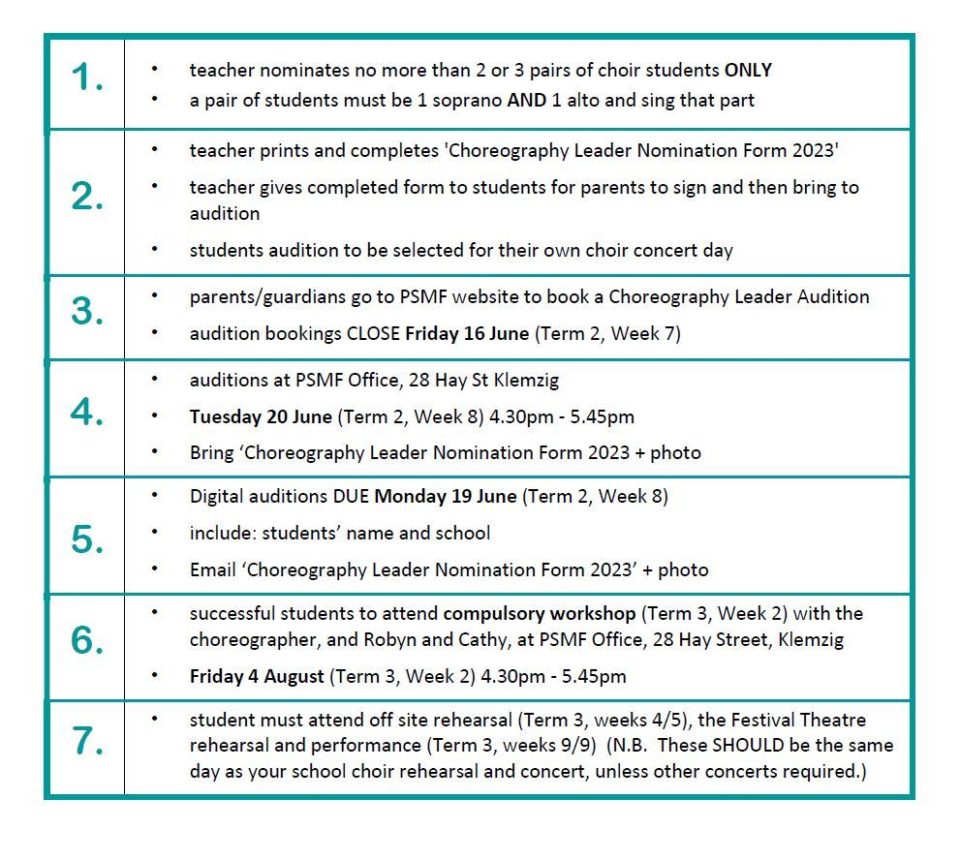 Choreography Leader Auditions Now Open
Tuesday 20 June (Term 2, Week 8) 4.30 - 5.45pm auditions at PSMF Office, 28 Hay St Klemzig
Successful students to attend compulsory workshop (Term 3, Week 2) with the choreographer, Robyn and Cathy Friday 4 August (Term 3, Week 2) 4.30 - 5.45pm