2023 Festival Of Music Orchestra Auditions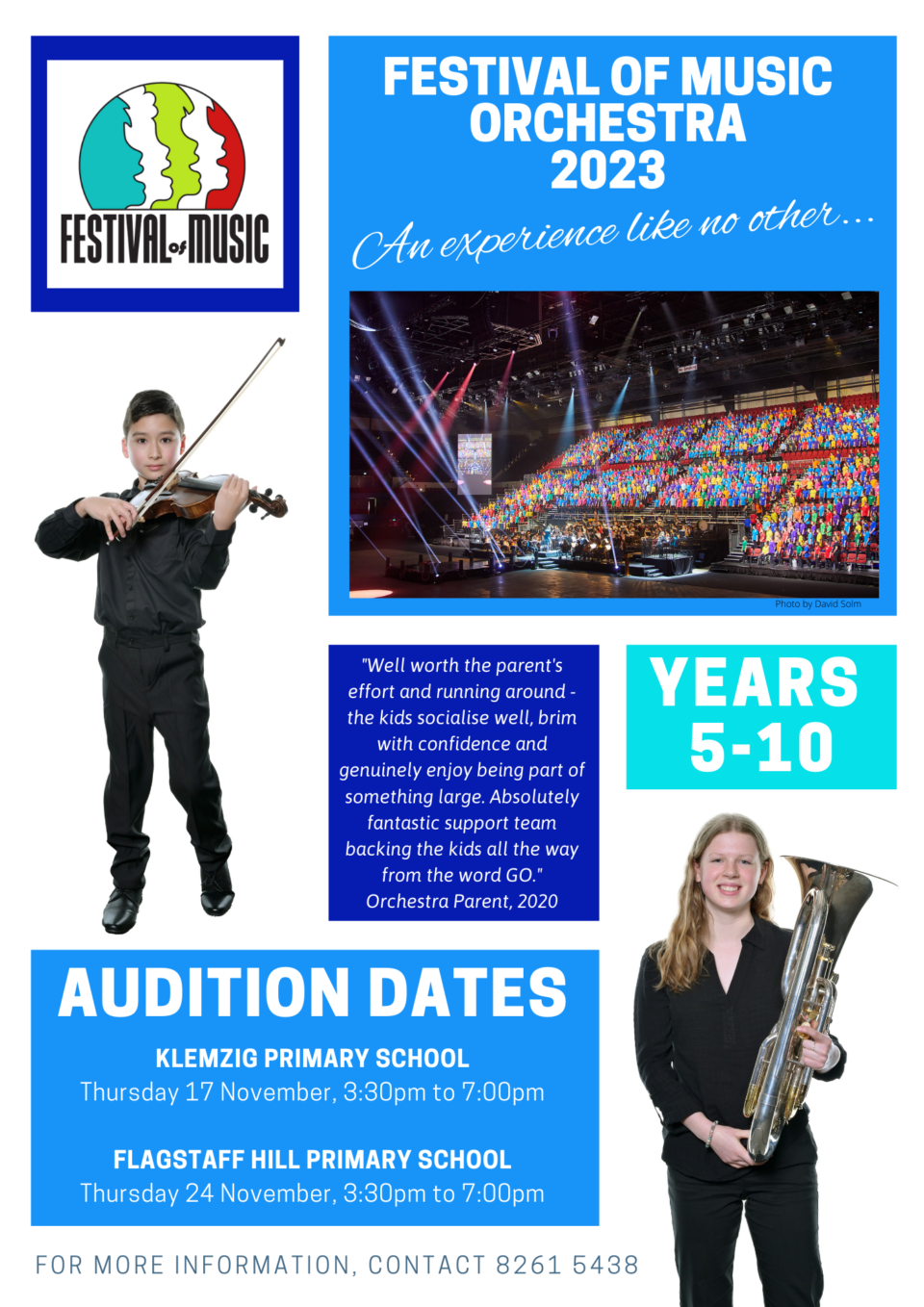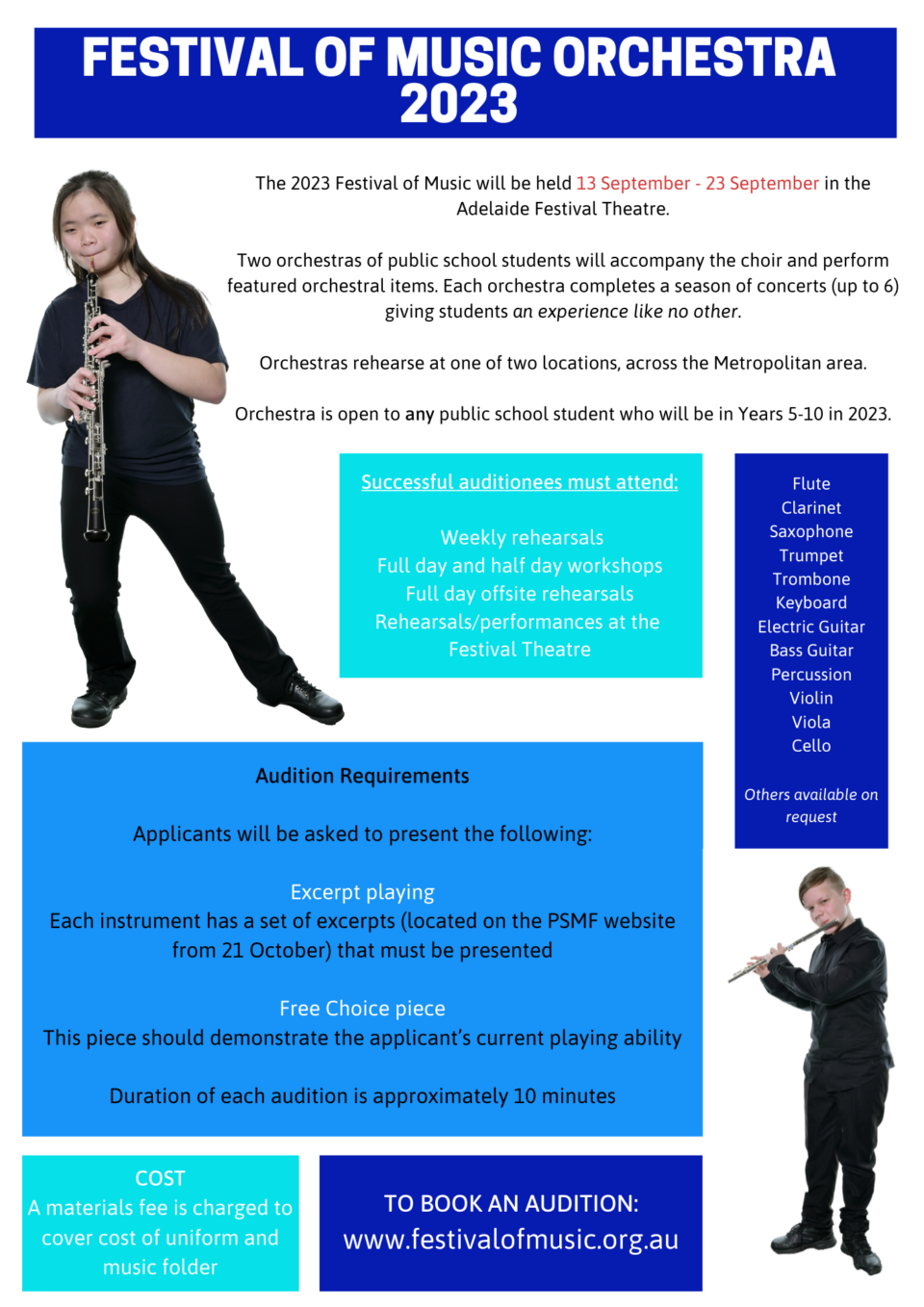 Audition time is approximately 10 minutes. No accompaniment is required.
Audition Requirements for all instruments:
1. Excerpts are available at www.festivalofmusic.org.au/orchestra for students to download and learn to present at the audition (excerpts available from 21 October).
Students will be required to prepare ALL THREE excerpts for the audition.
Each excerpt is designed for a particular purpose so please look at all musical concepts and ensure they are played correctly.
2. Students are also asked to present 1 piece of their own choice to demonstrate their ability. Please provide a copy of this music to the audition panel upon arrival – this music will be returned at the end of the audition.
3. Please see the attached sheet for the ranges required.
NB: Electric Guitar and Electric Bass students need to bring their own lead and instrument. An amplifier will be provided. A standard piano will be provided for keyboard (piano) students.
For Percussionists:
It is expected that percussionists will play the full range of general percussion and drum kit music in the repertoire. A drum kit and all required percussion equipment will be provided.
The following pages list suggested ranges and other information to assist you.
If you are unsure, please discuss with your Instrumental Music Teacher, your Classroom Music Teacher or email the Orchestra Manager as soon as possible.
Michael McConnochie - orchestra.psmf786@schools.sa.edu.au
Instrument & Music Information

General comments
Syncopated passages are common in our arrangements
Music is generally aimed at Band Level 2/3
Music includes accidentals and a variety of key signatures
For more information about instruments not listed, please contact the Orchestra Manager
An audition time MUST be booked
SUGGESTED MINIMUM RANGES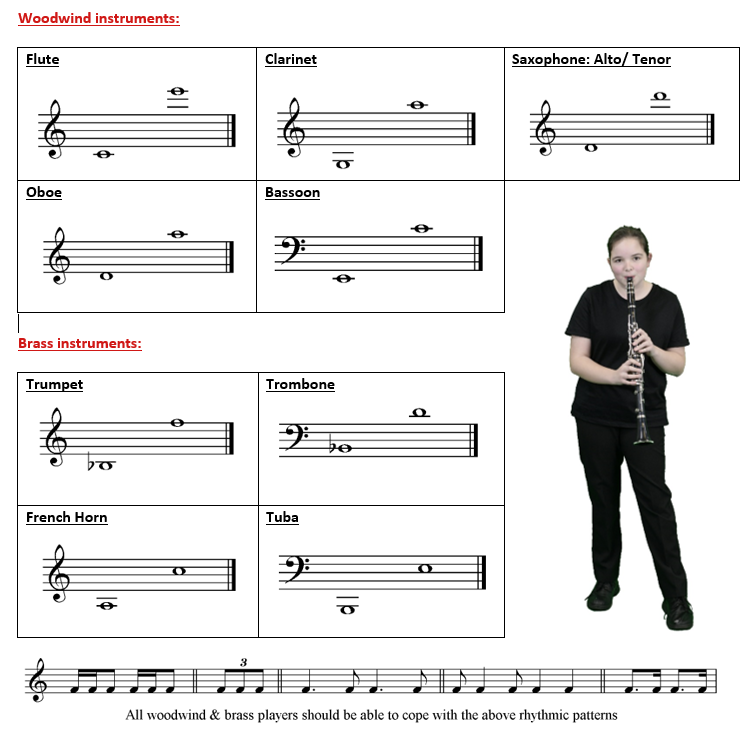 Festival of Music Orchestra
Orchestra is open to any Department for Education students in Years 5-10 (school does not need to be participating in the Festival).

Members must attend:
Weekly rehearsals from 4:20pm to 6:00pm (one night a week)
Full day or half day workshops as required (maximum of 3)
3 full day offsite rehearsals
6 rehearsals and 6 performances at the Festival Theatre
Please note that extra workshops, rehearsals or venue changes may occur to further develop the students learning. These will be advised as early as possible to assist your planning.
Orchestra Venues
PSMF Klemzig (tbc) - Wednesdays 4:20pm - 6:00pm
Seaview High School (tbc) - Thursdays 4:20pm - 6:00pm
Cost - A fee is charged to cover cost of uniform and music folder.