Create a piece of art!

Students are invited to design the Songbook Cover for the Festival of Music 2022. One winner will have their artwork professionally incorporated for the Songbook Cover for 2022, on the website and the app, CDs, concert programs, certificates and more.
For inspiration when designing the Songbook Cover and illustrations, look and listen to the choral repertoire for 2022 (below). You can also read about the 2022 Commissioned Work

Choral Repertoire 2022
Wau Bulan is a folk song and dance that originates from Malaysia. "Wau Bulan" describes the beauty of the Malaysian traditional Kite (wau) with a rounded bottom shaped like a half moon (bulan) as it flies up high in the sky. It is performed in the Dikir Barat style whereby performers sit in rows on the floor/stage to sing and do choreographed hand and body movements.
https://www.youtube.com/watch?v=973KgWkwctw
Lost the Plot – a contemporary Australian composition. Music by Paul Stanhope, Text by Michael Leunig.
Lyrics –
"He's lost the plot," they say, but it simply isn't true.
You can't just lose the plot, it's stuck to you!
Nor can it be chucked out or thrown into a pit.
You can't just dump the plot, you're stuck to it!
But you can soak the plot and loosen it with tears,
And slowly peel it back, it could take years.
And you can lose your face, and you can lose a lot,
And feel blessed when they say, "He's lost the plot!"
https://www.youtube.com/watch?v=xLg8yLFD_Oo
Who Knows? – Commissioned song by Adelaide's own Annie Kwok.

This new song is based on the fresh start for the PSMF in 2022 as the Festival of Fives and Sixes. Who knows what's possible, especially now that the world has been broken open by the events of 2020? Perceptions, ideas, understandings, relationships, traditions, friendships and values have been undone and are moving and changing; we have an opportunity to create something new and better from what we are learning.

City of Music – Commissioned song composed by this year's commissioned work composer, Glyn Lehmann.
2022 is the 'Year of the choir' supported by the Adelaide City Council and the Adelaide Choral Network. Our state's capital city of Adelaide was recognised as a City of Music in 2015 by UNESCO – United Nations Educational, Scientific and Cultural Organisation.
The lyrics by Glyn include lines such as – "We gather here on Kaurna land and sing with all our hearts. To forge a sound that is greater than the sum of all its parts.
Ev'ry voice a colour, blending……….Breathe in, sing out, there is magic about.
All our voices singing strong."
Revolution – Pink Zebra.
A potential opening song for the Festival of Fives and Sixes to sing with complete confidence and self-determination!!
https://www.youtube.com/watch?v=cUhm19MhHhI
A True Friend – from Australian musical Muriel's Wedding – Kate Miller-Heidke,
https://www.youtube.com/watch?v=UbZSpxneKls
Can You Feel It? – The Jacksons – Big orchestra and some choir.
https://www.youtube.com/watch?v=8-V-lWRE0iw
Got the Music – Netflix Julie and the Phantoms,
https://www.youtube.com/watch?v=fJVGbSFPPIc
Commissioned Work 2022
The Space Between Us, the revised commissioned work composed by Dan Walker.
Are you curious about space? Do you wonder what is out there? How much more can we discover? How do we fit in? What possibilities lie ahead for humans? Let's dive deeper into the concept of space – it is much more than just the 'moon, stars and planets'!!!
In Dan's words – "The overall theme is not just the space that exists above our heads, but the space all around us: between us and the Moon, our nearest celestial neighbour; between us and the next galaxy; and closer to home, between us and our fellow human beings. What events have taken place to set each of us on our individual journeys? I wanted these songs to be thought-provoking to enable us to start a conversation about that sense of place we all look for, and how we manage, nurture and grow, in THE SPACE BETWEEN US."
When Galaxies Collide
Stargazers
Echoes of Home
A River in the Sky World
And the 2021 Songbook Cover is.....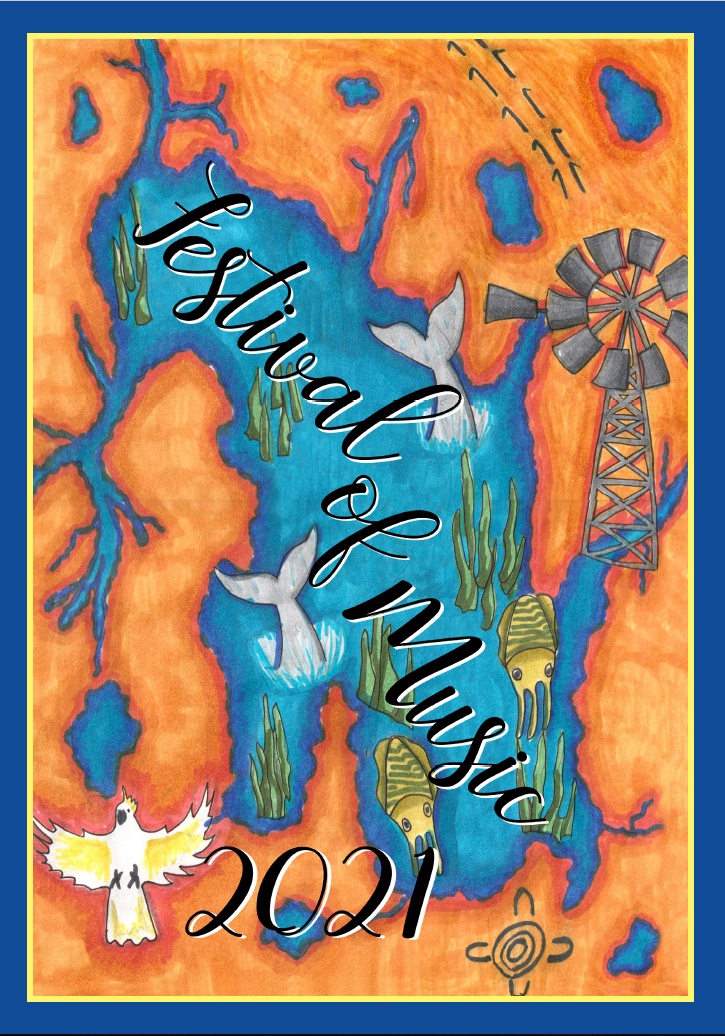 Ryan from Jamestown Community School.
C O N G R A T U L A T I O N S !
Previous Years Covers