We Have a W I N N E R !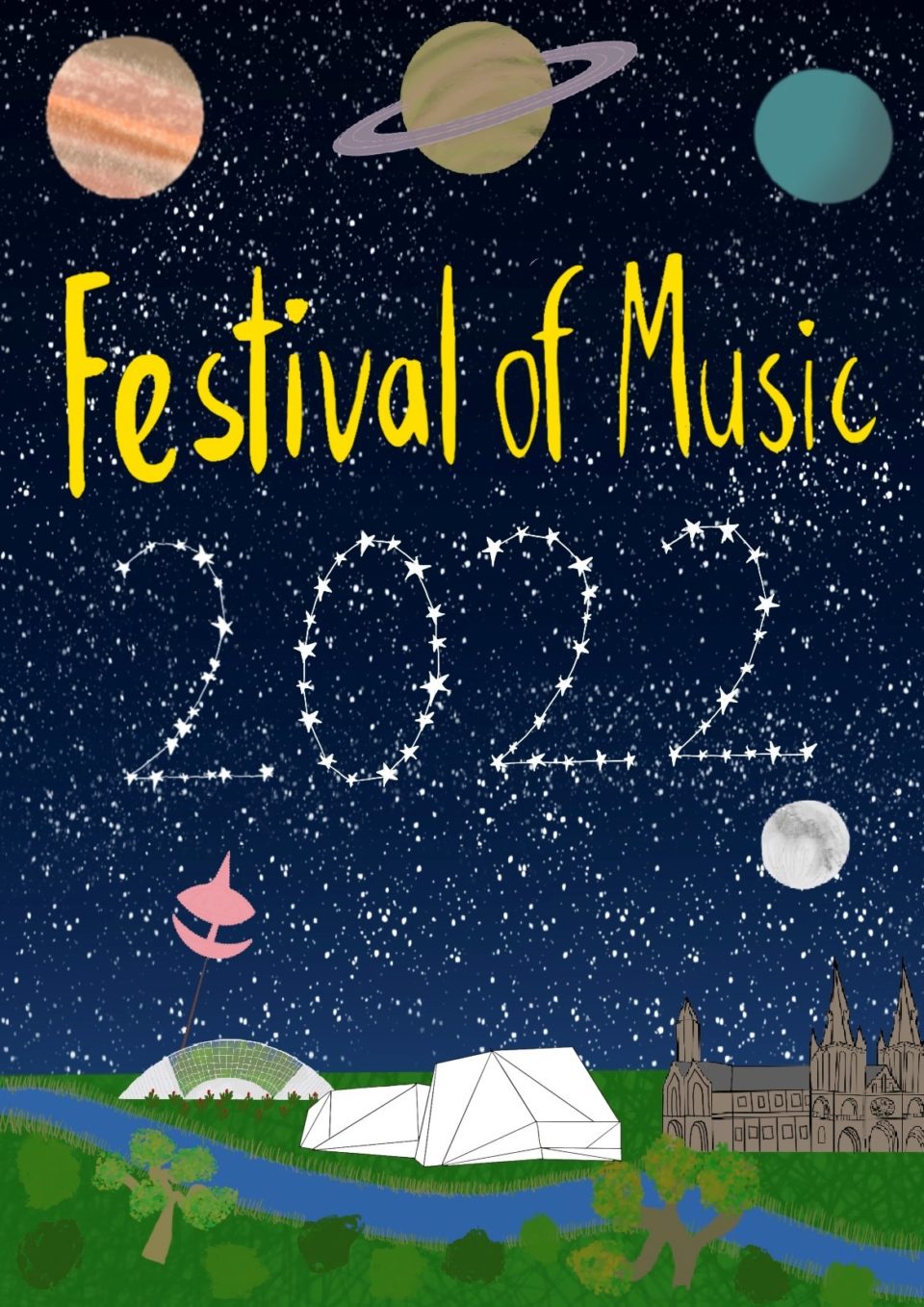 Daphne from Belair Primary School.
C O N G R A T U L A T I O N S !
Choral Repertoire 2022
City of Music – Commissioned song composed by this year's commissioned work composer, Glyn Lehmann.
Did you know that Adelaide is known as a City of Music by UNESCO – the United Nations Educational, Scientific and Cultural Organisation.
Next year is the 'Year of the choir' supported by the Adelaide City Council and the Adelaide Choral Network. Choirs from ALL OVER ADELAIDE will come together to perform – one big MASSIVE team of people singing – it will be spectacular!
This song begins with the BELLS OF ST PETER'S CATHEDRAL – have you ever heard the church bells ringing? Adelaide is also known as the City of Churches….
The lyrics to begin the song are, "We gather here on Kaurna land and sing with all our hearts. To forge a sound that is greater than the sum of all its parts.
Ev'ry voice a colour, blending………… Breathe in, sing out, there is magic about. All our voices singing strong."
Singing a song makes you feel so good – do you know what it does to your brain??
Music helps your brain be bigger and better!!
Illustrate St Peter's Cathedral, or another beautiful building, or the Kaurna land on the Adelaide Plains in the city – the River Torrens, the Parklands, the Botanic Gardens… special places that we have here in Adelaide…..
Revolution – Pink Zebra.
WATCH OUT!! We are now the Year 5 / 6 Festival!! This song is powerful, rhythmic, and strong to let everyone know that this is the beginning of something new!! We are coming for you!! The 5/6 choirs will be singing out – "…no hesitation, our generation, leads us onwards!!"
Design a campaign poster asking ALL Year 5 /6 students to join us in 2022!
https://www.youtube.com/watch?v=cUhm19MhHhI

Who Knows? – Commissioned song by Adelaide's own Annie Kwok.

This new song is based on the brand-new era as every Primary School becomes a Reception to Year 6 school. How exciting to be a part of the choir in 2022 EXCLUSIVELY for students in years 5 and 6!!

Be brave and look forward to everything that is possible!! New possibilities and opportunities – everyone can be great!! We have an opportunity to create something new and better from what we are learning – be curious and creative!!

Re-imagine ALL of the possibilities that you have as a learner in your primary school… we are all unique and valuable – find your talent and passion! Create the 2022 Songbook cover or a smaller picture to go inside the Songbook at the end of a song.
You've Got a True Friend – from Australian musical Muriel's Wedding – Kate Miller-Heidke,
We know that friends are good to have – and to have special, close friends is so much fun and good for you.
Illustrate friends having adventures together – you and your 'bestie'!
https://www.youtube.com/watch?v=UbZSpxneKls
Commissioned Work 2022
The Space Between Us, the revised commissioned work composed by Dan Walker.
Are you curious about space? Do you wonder what is out there? How much more can we discover? How do we fit in? What possibilities lie ahead for humans? Let's dive deeper into the concept of space – it is much more than just the 'moon, stars and planets'!!!

When Galaxies Collide
In a million years or more, will we still be here? We share the same night skies with other galaxies…
Andromeda is moving towards the Milky Way, across the vast expanses of space….what will happen if these two galaxies collide?
Investigate the different colours of the galaxies – use these colours to create your own galaxy.
Stargazers
Do you look up at the stars when it is a cloudless night? Do you have a telescope? Would you like to look into the corner of the moon, and check out where the planets orbit or ice filled comets have blazed their path…
South Australians have been looking into the night sky since 1891 when the Astronomical Society first met.
illustrate the night sky – the brightest stars, the full moon, planets orbiting around the sun, secrets of the unknown space above us!!
Lost the Plot - has 'fun' lyrics by Michael Leunig who is a great cartoonist and verse writer.
Have you EVER lost the plot??
"He's lost the plot," they say, but it simply isn't true.
You can't just lose the plot, it's stuck to you!
Nor can it be chucked out or thrown into a pit.
You can't just dump the plot, you're stuck to it!
But you can soak the plot and loosen it with tears,
And slowly peel it back, it could take years.
And you can lose your face, and you can lose a lot,
And feel blessed when they say, "He's lost the plot!"
Can YOU draw a picture for the words we will sing?
Have a listen to this song being performed by the Junior Gondwana choir from Sydney.
https://www.youtube.com/watch?v=xLg8yLFD_Oo
Commissioned Work 2022
The Space Between Us, the revised commissioned work composed by Dan Walker.
The composer said – "these songs are not just the space that exists above our heads, but the space all around us:
between us and the Moon, our nearest celestial neighbour;
between us and the next galaxy;
and closer to home, between us and our fellow human beings.
What events have taken place to set each of us on our individual journeys?"
These songs will be thought-provoking to enable us to start a conversation about that sense of place we all look for, and how we manage, nurture and grow, in THE SPACE BETWEEN US."
Echoes of Home
Have you felt sad to be leaving a home and making a new one along with new friends? Maybe catching up with special family members has been 'online' via a zoom meeting or telephone call? Remember 'your' special people that live far away and be grateful for your safe home here in South Australia.
Create a scene of people reuniting after being apart for a long time… a picture in time – a 'photo of a special moment.'
A River in the Sky World – here in Adelaide we live on Kaurna country – and this is their people's story about our night sky.
"There are emu and kangaroo…. Out on the open celestial plain….In the moon's full light, the young men go hunting, eyes lit with flickering flame…."
Design a 'night sky' with some of the amazing constellations that are in the Kaurna night sky…

Wau Bulan is a folk song and dance that originates from Malaysia. "Wau Bulan" describes the beauty of the Malaysian traditional Kite (wau) with a rounded bottom shaped like a half moon (bulan) as it flies up high in the sky. It is performed in the Dikir Barat style whereby performers sit in rows on the floor/stage to sing and do choreographed hand and body movements.

Do some research on the shape of the' wau bulan' kite then draw your own design on it. Have a listen to the song – what do you imagine? Draw what you see.
https://www.youtube.com/watch?v=973KgWkwctw
I Got the Music – Netflix Julie and the Phantoms,

HAVE YOU GOT THE MUSIC??? Do you listen to lots of different styles of music? What is your favourite style?
This song comes from a TV show called Julie and the Phantoms – what a happy and fun vibe this song has. Does your school have lots of music happening?
Create a musical design or pattern that can be incorporated with other elements of the songs – for example some space concepts….
https://www.youtube.com/watch?v=fJVGbSFPPIc

Can You Feel It? – The Jacksons – Big orchestra and some choir.
This song is anthemic!! Some of the lyrics in this song are about getting along with everyone, how we are the same on the inside and our differences on the outside shouldn't matter…. "Spread the word that love will do….. feel it in the air…. Can you feel it?...."
The finale will be the orchestra, the performance troupe and the choir. High energy! Can you feel it?

Listen and illustrate …. Happy days, peace and harmony in your school and community, and across the world, and beyond …..
https://www.youtube.com/watch?v=lrKZNqIR2U0&ab_channel=TheJacksonsVEVO



Previous Years Covers