What do Hosts do?
Hosts rehearse and film "grabs" to help choirs and the Festival family know what's happening during the year. Hosts present 2 concerts in September at the Festival Theatre. They are front and centre for much of the show. They have expressive personalities and clear speaking voices. They entertain the audience, introducing songs and guest artists.

Hosts work in a small team and an adult mentor. They learn stagecraft and hone their speaking and drama skills, building the confidence to feel comfortable hosting to a large audience.
Qualities we look for in a Host

Committed
In Year 5 or 6 and at a public primary school
Confident, self-disciplined and good at working in a team
Animated, flexible, expressive and energetic
Reliable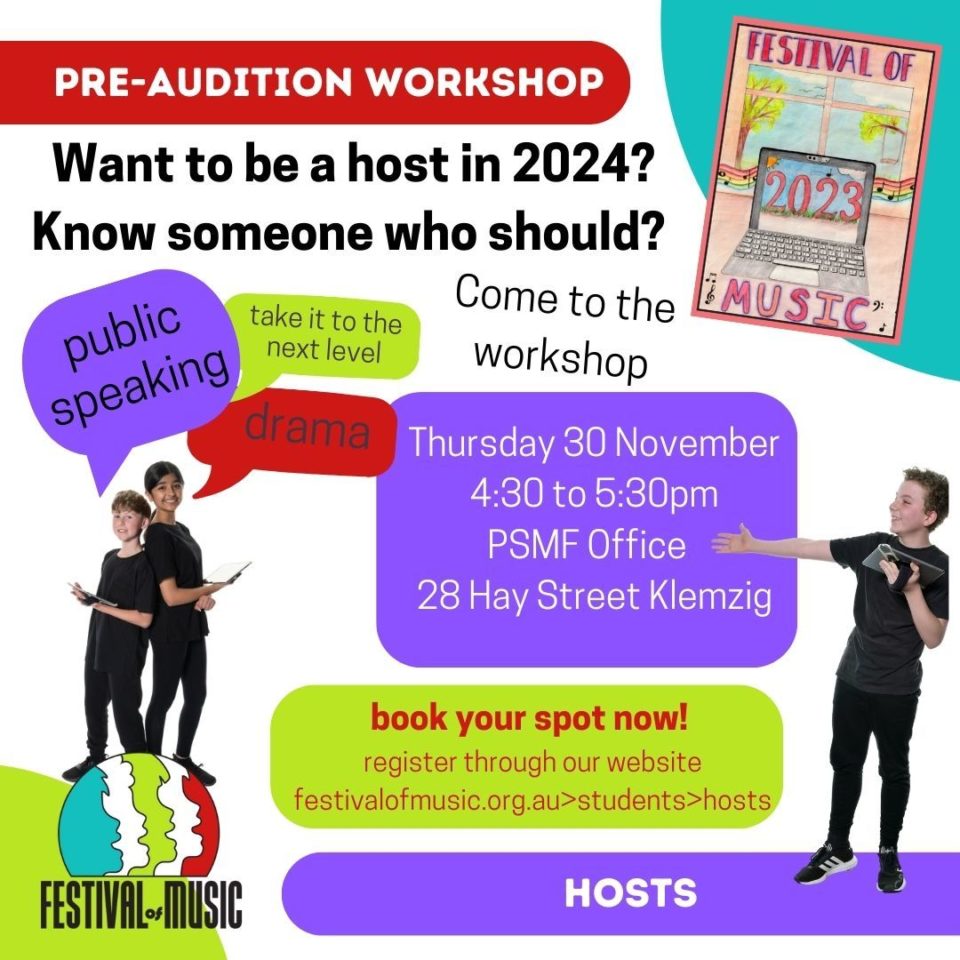 Host Pre-Audition Workshop
Students who are thinking of auditioning to be a Host for the 2024 Festival of Music are encouraged to attend the Pre-Audition Workshop.
Country students are highly encouraged to book into the Zoom session. These workshops are not a pre-requisite for auditioning, however, they will give students information about how to present themselves at the audition.
Choir teachers, class teachers or families can book students in to the Pre-Audition Workshop.

Thursday 30 November (Term 4, Week 7) at PSMF Klemzig, 28 Hay Street, Klemzig from 4:30 - 5:30pm with a parent Q and A from 5:30 to 5:45pm.
Zoom session for regional students only 6:00 to 7:00pm.
Host Expectations
A Host must be able to attend all workshops, rehearsals and their performances.
Thursdays once a fortnight from 4:15pm to 6:00pm at the Festival of Music office, 28 Hay Street, Klemzig (Country students can be accommodated) commencing in Term Two Week 1.
Weekend workshops and filming sessions on some weekends.
Attendance at 2 off-site choir rehearsals between in late August.
Hosting two evening concerts at the Adelaide concert series in the Festival Theatre between 9 September and 20 September.
Additional rehearsals to film grabs will be offered to available hosts.
Host Costs
An $80 participation fee will be charged which includes a rehearsal/filming Host hoodie. Social Justice funding can be negotiated for those families suffering financial hardship.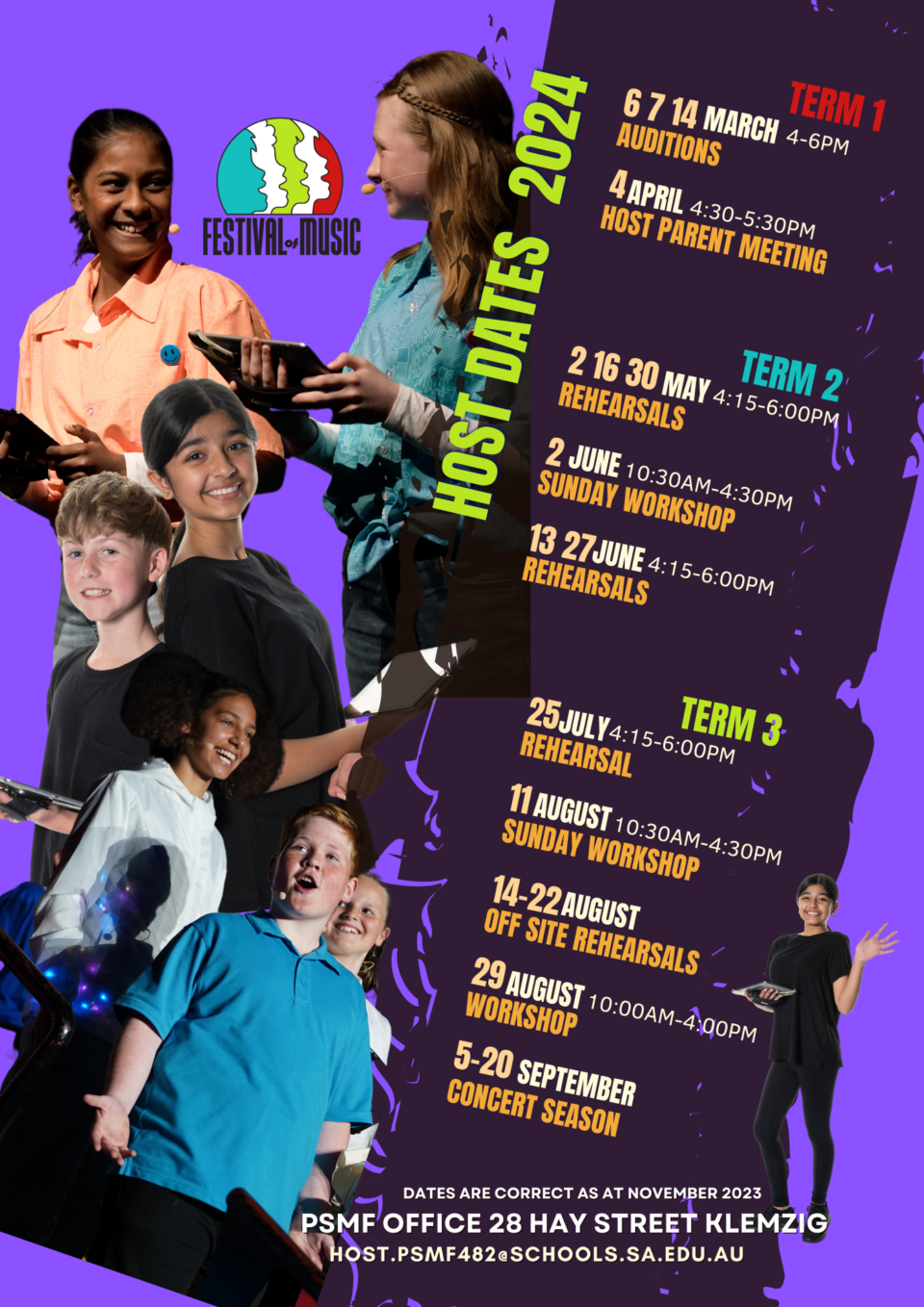 Hosts will be visible to the audience for most of the concert, presenting in a manner that supports the feel and look of the performance.

Students do not need to be choir members to be Hosts.
Students do not need to be from a school which has a choir.
Hosts will not be able to sing with their school choir if they are allocated that concert as a host. If this happens they will be offered another night to sing with the choir.
Students who are in Troupe or Orchestra cannot be Hosts.