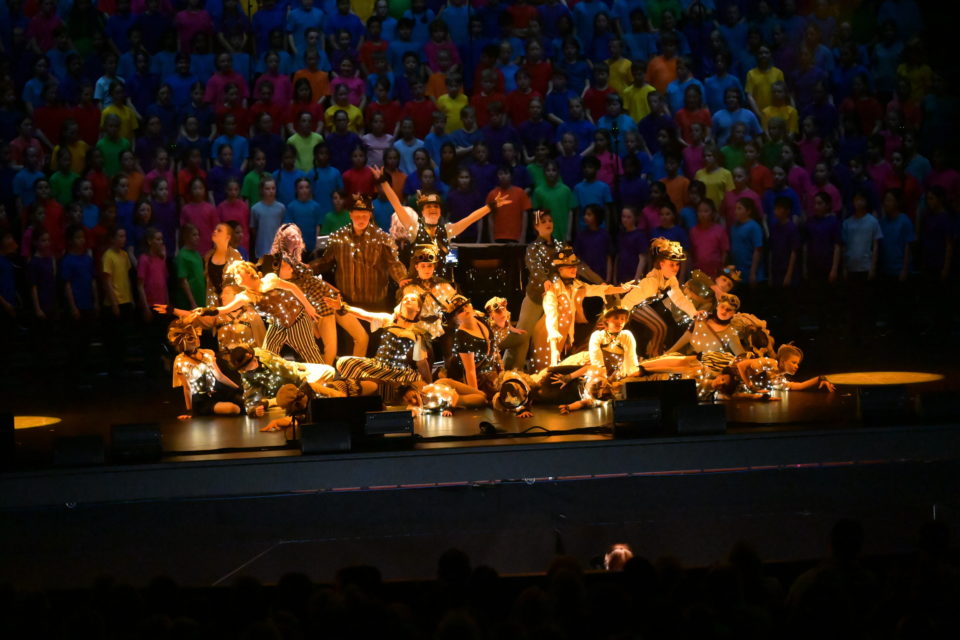 Festival of Music Repertoire
When selecting music, we look at a wide range of genres, including: artistic, Australian (theme or composer), 'big sing', classical, folk, fun/different, popular/choreography, show tunes, world/multicultural, contemporary, jazz, Indigenous and kid's choice.

Proud Mary
https://www.youtube.com/watch?v=YkqzRw8d4x0
We are singing a classic from the 20th century – first recorded in 1968 by Creedence Clearwater Revival, an American rock band. Proud Mary was written by John Fogerty - the lead singer, lead guitarist, and songwriter. The song is about an old steamboat on the Mississippi River – written with everyday language of the time, like many of this band's songs. Over the years the song has been covered by various artists performed with high energy from beginning to end!
Our arrangement is based on Ike & Tina Turner's version and is something special, because it contains a spoken word intro by Tina Turner as a slow opening – then becomes a full-on rock song, wild and energetic. Tina Turner's interpretation of the line "... pumped a lot of 'tane ..." – refers to "octane that is often found in fuel for vehicles.
https://www.youtube.com/watch?v=hzQnPz6TpGc One of the original Tina Turner versions…1971
Check out the fashion in this clip – and the incredible energy level of the artists once the up-tempo section starts!
Charleston
The Charleston dance and song will be 100 years old in 2023. https://youtu.be/W4gtM43o0o0
The Charleston music was composed in 1923 by James P. Johnson with lyrics by Cecil Mack in the USA. It first featured in the Broadway musical comedy show Runnin' Wild, which premiered at the New Colonial Theatre in New York, 1923. Johnson had said that the music of the South Carolina dockworkers inspired the music.
After Runnin' Wild, the music, usually with no lyrics, was featured in several films.
In 1950, the movie Tea for Two, starring Doris Day and Gordon MacRae, used the song as a featured musical item – check it out here https://youtu.be/ISQuVgDh2Zc
Want to learn the Charleston dance? Take a look at this! - https://www.youtube.com/watch?v=W_g8rZHJEEY
Keep On Movin'
Keep on Movin' is a song by the British boy band Five.
It was released on 25 October 1999 as the second single from their second studio album, Invincible (1999), and debuted at number one on the English Singles Chart, becoming Five's first number-one single. The band Five was managed by Simon Cowell, of the TV show 'Britain's Got Talent'.
Keep on Movin' has a simple idea: times are tough, let's get through them. It is a song to cheer people up with its bright 'boppy' vibe and positive lyrics!
https://www.youtube.com/watch?v=w1PvzSX_Sbs Original video of Keep on Movin'
I am the Earth - Remix
Written by our very own Glyn Lehmann - the Primary Schools Music Festival (PSMF) are bringing back a favourite that has been sung by children all around the world. Written back in 2007, the PSMF sang it in 2008 and The SAPPS Choir sang it in 2022.
We love this REMIX of I am the Earth that features the truth telling lyrics about our planet Earth, and the responsibility that we humans have to take care of it. This time it is set to a totally electro backing track. Also includes some Kaurna language.
Our version will be quite similar to this remix … https://youtu.be/Oz9jVf8Asjg
Nothing Else Matters
This song might surprise you – who would think it could make such a heartfelt choral song.

Nothing Else Matters is a song by the heavy metal band Metallica. It was released in 1992. Recognized as one of Metallica's best known and most popular songs, the power ballad has become an expected song in their live performances. Lead singer and rhythm guitarist James Hetfield wrote the song in 1990 while on tour. He was feeling out of sorts being away from home. Initially, the song was not meant to be released, as Hetfield had written it for himself, but after the band's drummer Lars Ulrich heard it, it was considered for the album. Good choice!
Children's Choir - https://youtu.be/cVvF2-aB1J4 check it out!
SATB choir + piano - https://youtu.be/RAdsyw3oLTI
The orchestral arrangements were written by award-winning composer Michael Kamen.
https://www.youtube.com/watch?v=Sp9wET_9HBY
Orchestral arrangement played by San Francisco Symphony Orchestra starts with acoustic guitar… https://youtu.be/x9wFUtf_X9Q
Whisper
Composed by Greg Gilpin, this piece is for piano and choir only – no orchestra in this one!

It is a creative, energetic song that requires the choir to have excellent dynamics and diction.
You will have lots of fun making whispering sounds and going, "Shhh!" The altos and sopranos will learn the same parts then layer them together at different times.
At the end, everyone sings loudly, "Are you listening?" It's very cute!
"I need to whisper something to you. Whisper, whisper something now!"
Smile
Written and recorded by Sidewalk Prophets, from the USA, this song has a simple message – just smile - make a choice, be happy, find joy and get up and dance! This tune will make you SMILE 😊 and will definitely make you feel good!
Bring your best Aussie Accents – no American twang!
https://www.youtube.com/watch?v=mjurY5mR2hs -
South Australian Seas
This brand new song is about our state's coastline – do you know how many 'PORTS' we have in South Australia?
The composer, Anne Mathews, is a student at Elder Conservatorium, and for one of her assignments was inspired by the popular 'The Wellerman' sea shanty. She wrote it from the perspective of a fictional 19th century South Australian sailor. She wanted the song to be a musical celebration of South Australia; to learn about South Australia's geography, industries, history, and more. It is a sea shanty, simple and strong, telling the story of sailing in the early 1900s.
Can you imagine sailing on the sea navigating the rugged coastline to transport food and wool and other cargo? No-one wanted to end up shipwrecked!!
"We're sailors of Southern seas, come sail from port to port with me.
Leave Spencer Gulf and see the Bight, the sail is up, the ship takes flight.
Oh! We're free sailors, on South Australian seas."
'World of Tomorrow' our 2023 Commissioned Work composed by Paul Jarman
It is a 4-song cycle based on the theme of Truth and Technology in the 21st century and the future for us all….
Technology and time spent on screens is a huge part of our lives – for work, and for recreation. But how do we manage this? How do we keep ourselves healthy and well, in the body AND the mind.
Health and wellbeing are so important to us all. Only we can monitor this, and it takes self-discipline and courage. Let's be smart about how we live our lives, how we spend our time, how active we are and how we make and keep connections with friends, family, and the world around us. Keep questioning how we interact, be curious, to make the world of tomorrow the best place it can be for us all.
SONG 1 – Away from the Screen – a strong song with attitude and intent.
"Look around, everyone head down, I'm the only one not on a phone, look around …. I'm living in the moment, everyone else is on their screen, but I'm inspired, connected, not uninspired or disconnected…. There's a whole world out there waiting for me, away from the screen, and I am free!
SONG 2 - Keep the Truth Alive - edgy and funky, modern and fun, quirky.
This one is about fake news, internet dangers, technology and the challenges we face with a healthy amount of screen time, and what is age appropriate, how do we navigate the world wide web which is constantly changing and find the path to truth? We must fight to keep the truth alive beyond the screen in this crazy, hazy world – keep the truth alive!
Song 3 – Follow My Own Dream – the gentle ballad of the 4 songs.
"Who am I? Do I know who I am? I am still working it out, but with things changing every day, I can fit in, I can be me, it's all I can be, I will find the answers in the real wide world, the key to the truth in me. I'm happy in my own skin, who I am and where I stand, I will follow my own dream".
SONG 4 - This is Our World - the finale, big sing, the anthem - imagine a big Pop Music sound, sort of like U2 or Coldplay.
A tribute to the whole song cycle which speaks freely so the kids and audiences can decide what it means to them. "Imagine a world of tomorrow for all to share, of hope and freedom, equality, racial harmony, truth and justice, empathy and love for all!! We shape this world, we must work together, united voices, make the change, we have a choice!! The world we dream…. This is our world!"
Commissioned Works
The Primary Schools Music Festival has a long tradition of supporting local and Australian composers by commissioning new choral repertoire.
2022

Dan Walker's work, The Space Between Us, a set of four songs exploring the idea of space and distance, and how it affects us globally and personally.
Annie Kwok has written the song Who Knows? to commemorate year 7 students attending high school for the first time in South Australia, and to celebrate the Year 5 and 6 choristers as the future of the Primary Schools Music Festival.
to coincide with the Year of the Choir, a collaboration between the Adelaide City Council and the Adelaide Choral Network, Glyn Lehmann has composed City of Music. This piece celebrates choral singing in Adelaide and its designation by UNESCO as Australia's only City of Music.