Choir Assessments begin at the start of term 2.
The purpose of this visit is to provide feedback to the choir, and to work together on improving and to prepare for performance conditions. The assessment is a chance for your choir to show off their singing, their expression, part work and what it is to be a great choir.
Choir Assessment Non-Availability - Form Closed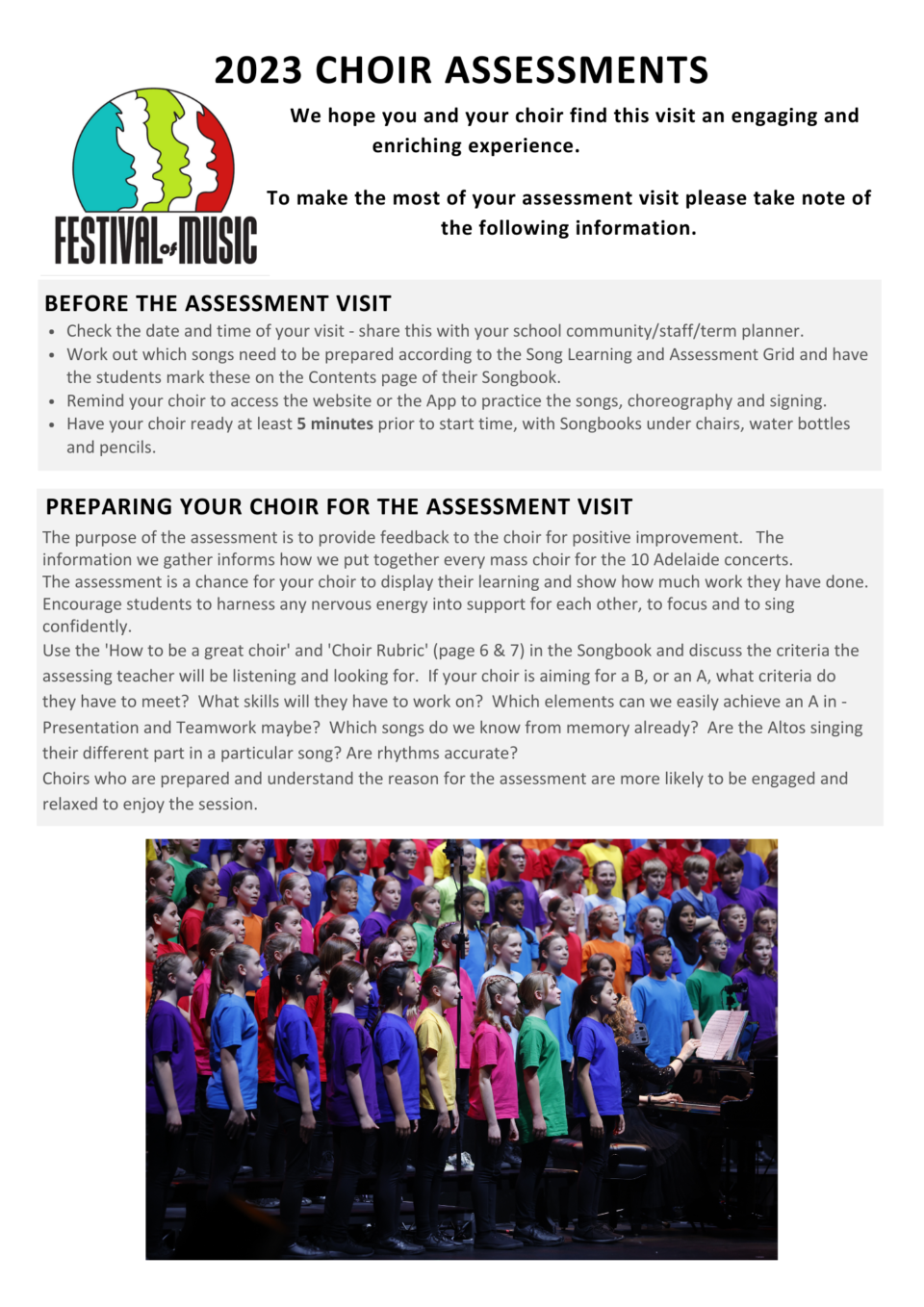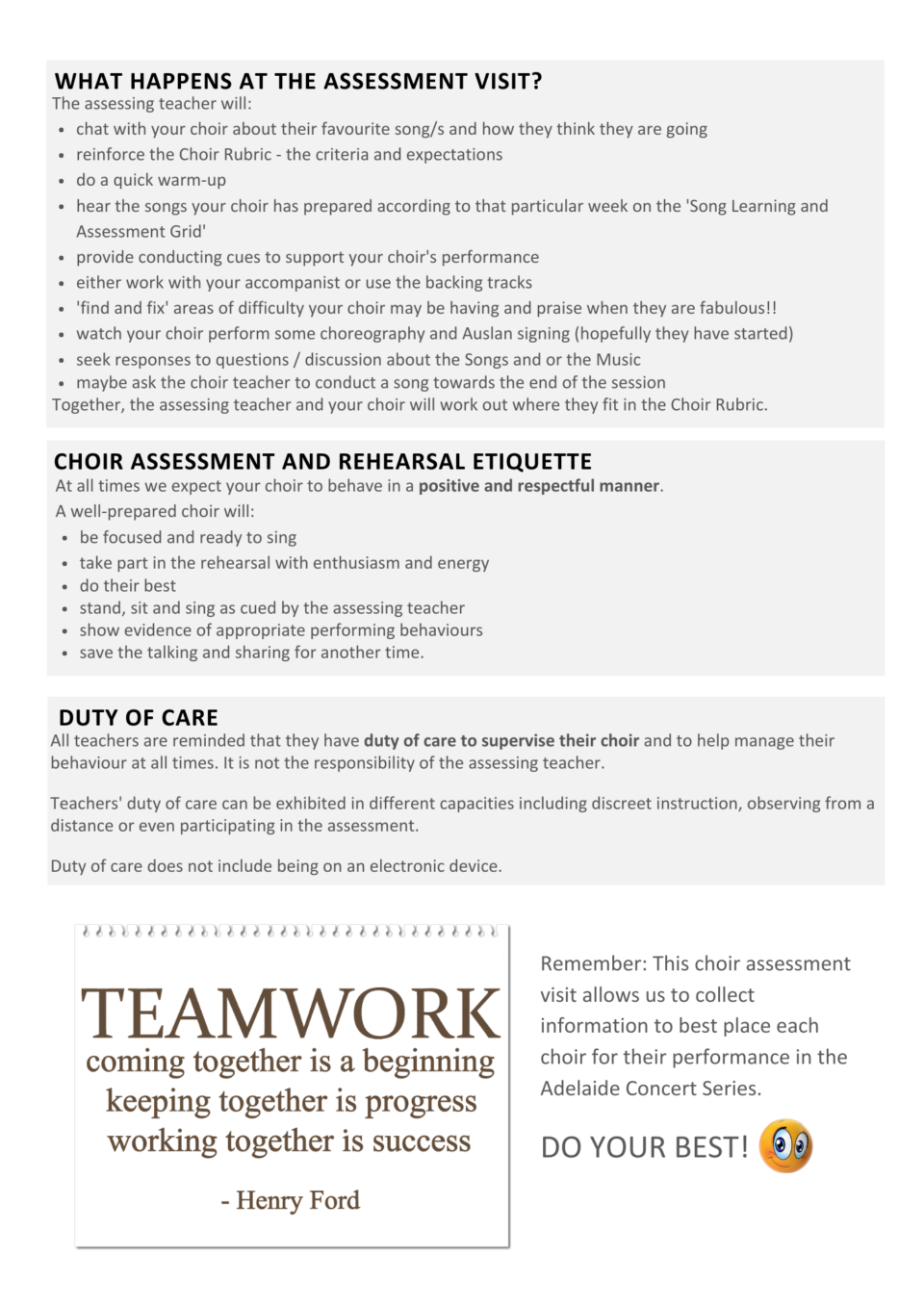 BEFORE THE VISIT
Check the time and date for your visit - write it on the school whiteboard in big letters. There is very little wriggle room for changes in our timetable.
Aim to have your choir ready to start at least 5 minutes earlier, with water bottles, Songbooks, and a pencil.
Keep reminding your choir to practise the songs, choreography and signing via the App or the website.
Have a think about which songs you would like some help with.
PREPARING YOUR CHOIR FOR THE VISIT
To best prepare your students for success make the time to go to the 'How to be a great choir' and 'Choir Rubric' pages in the Songbook. Discuss the criteria that "YOU as singers" are responsible for.
Please talk to your choir about the purpose of the Choir Assessment visit, revisiting behaviour, working as a great team, and singing expectations. Continue to reinforce the importance of students 'doing your best' and having fun.
Choirs who are prepared and understand the reason for this visit are likely to be engaged learners and enjoy the session.
WHAT HAPPENS AT THE VISIT
The visiting conductor will:
chat with your choir about favourite song/s and how the students think they are going
reinforce the Choir Rubric and the 'How to be a great choir' expectations
do a quick warm up
listen to the songs your choir has been practising and provide conducting cues to support your choir's performance
either use the backing tracks or work with your accompanist
'find and fix' areas of difficulty your choir may be having
watch choreography and signing.
The visiting conductor will gain a sense of where the choir fits in the Choir Rubric.
No pressure – take a breath, encourage your students to be the best they can and just keep practising your songs and choir skills.
CHOIR REHEARSAL ETIQUETTE
At all times we expect your choir to behave in a positive and respectful manner.
A well-prepared choir will:
be focussed and ready to sing
take part in the rehearsal with enthusiasm and energy
do and be their best
stand, sit and sing as cued by the visiting conductor
show evidence of starting to develop appropriate performing behaviours
save the talking and sharing for another time.
DUTY OF CARE
All teachers/staff are reminded that they have a duty of care to supervise their choir and to always manage their behaviour AT ALL TIMES. It is NOT the responsibility of the assessor to manage the behaviour of your choir.
Teachers' duty of care can be exhibited in different capacities including discreet instruction, observing from a distance or even participating in the assessment. Duty of care does not include being on a device.
Remember: This visit will provide us with information to place each choir for their performance in the Adelaide Concert Series. We will still consider suitable choirs for front and back rows on stage.
The 2023 Assessment Grid is below - please read carefully. Ctrl+F in the document to 'find' your school. The Choir Rubric from the front of the Songbook and the Song Learning and Assessment Grid are also attached. The Assessment Team will be using these documents to assess your choir. Assessments start Term 2, Week 1, the session times are 9:30am, 11:30am and 1:45pm. All metro assessments are 1 hour long. The assessment team will listen to 3 songs of their choosing based on the Song Learning and Assessment Grid, then assess and provide feedback based on the criteria in the Songbook Rubric. During your assessment please be actively involved with behaviour management.

Help us make this a successful process by arranging your own Assessment swaps amongst yourselves (email or phone the school you wish to swap with) – then let us know of your confirmed swap arrangement. If your school has an asterisk (*) next to it we couldn't fit you in at your usual choir time.